Monday-Friday 8am-4pm | Closed Saturday & Sunday
Detached Garages for Sale: Design the Garage Your Family Needs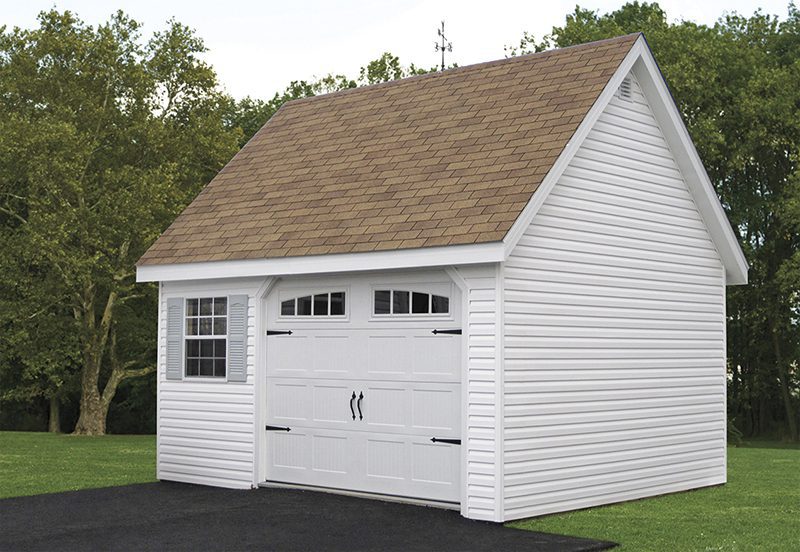 Need storage space for one or more vehicles? How about a boat, ATV, or lawn equipment? Maybe you'd like to build the ultimate workshop with superior accessibility or install a lift for working on vehicles.
No matter what's most important to you, we have various types of vinyl-sided detached garages for sale that can be built to suit all your needs. Each one is completely customizable, with dimensions, siding, trim, and roofing options to make it your own. Get in touch with us today to get your free quote!
Store and Protect Vehicles and More!
You paid good money for your belongings and vehicles. So why risk having them stolen, vandalized, or ruined by the elements? Check out our detached garages for sale to house and protect your cars, bicycles, lawnmowers, garden equipment, and so much more!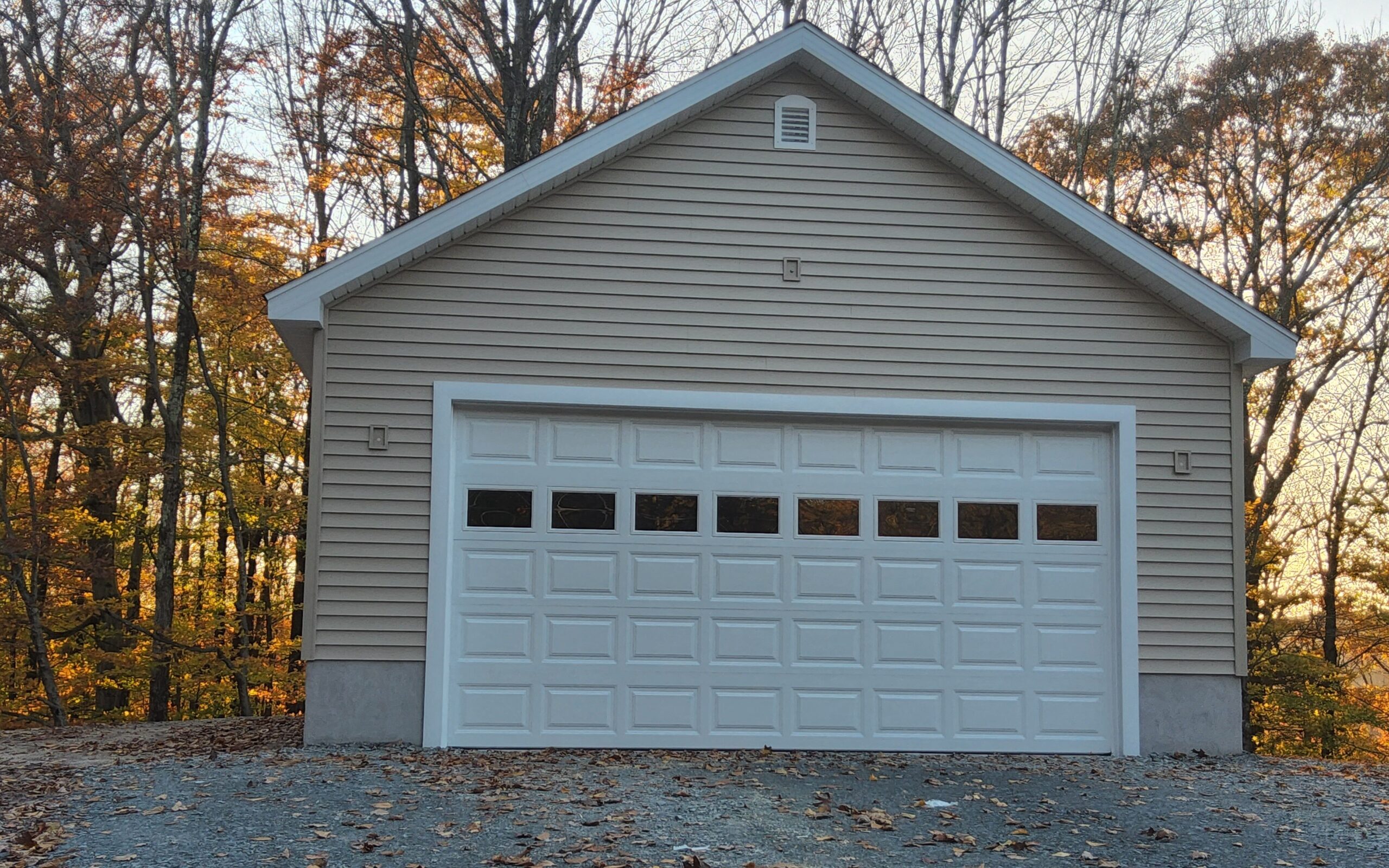 Single-Car Garages
Keep your vehicle out of the weather, deter theft, and increase the value of your property without a costly addition to your home. Our single-car garages give you ample space to accommodate your vehicle!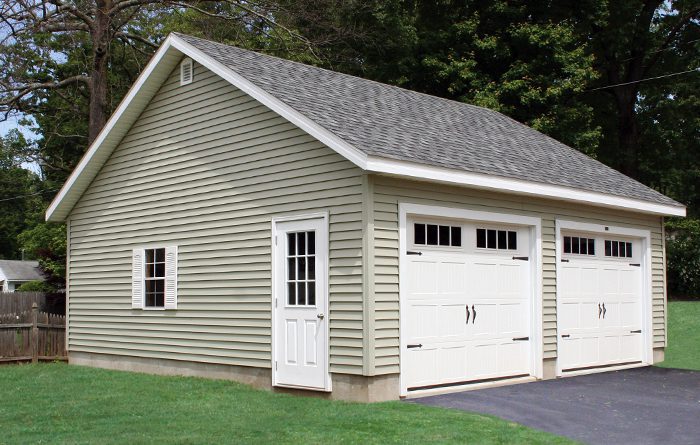 Multi-Car Garages
If you need storage for more than one vehicle or one vehicle and other valuables, we have many multi-car garages to choose from. As an affordable backyard structure, a two-car garage can also provide recreational space.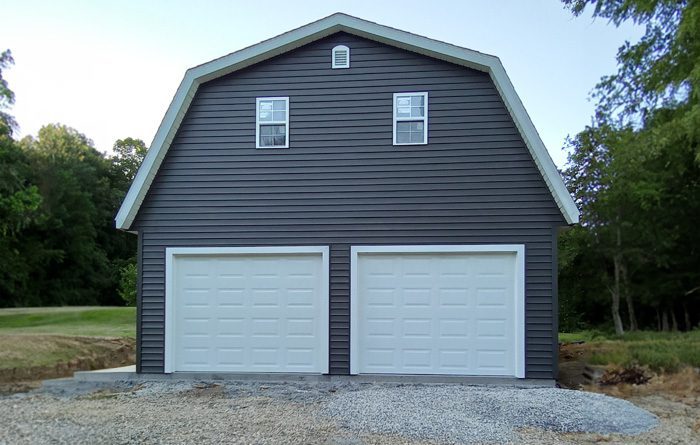 Two-Story Garages
Wishing you had extra space for a man cave, home office, at-home gym, or in-laws' quarters? Our popular two-story garages are the perfect addition to your property without building a costly addition onto your home.
You Choose the Options—We Make it Happen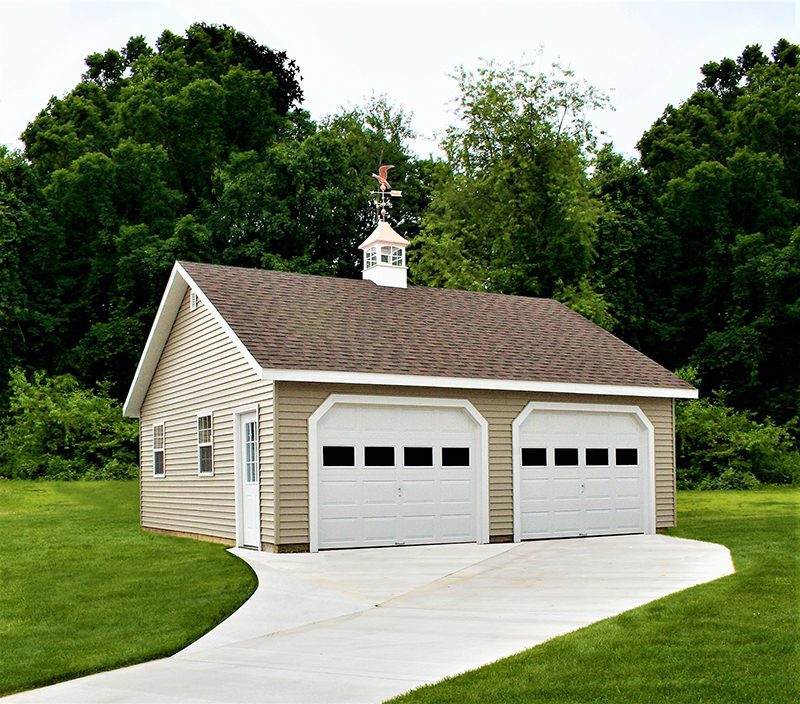 We know you want to make the best possible decision when it comes to beautifying and adding value to your property. You also want a high-quality garage you can afford.
Let our outdoor structure experts guide you through the decision-making process. We'll answer your questions, take your order, deliver, and construct your detached garage, all with the personal service you'd expect from a family-owned and operated company local to Harrisburg, PA.
Choose from These Customization Options for Your Detached Garage:
Number and color of garage doors
Color of the vinyl siding
Number of floors
Add extra doors
Garage style
Number of windows
Ventilation options
Trim color
Wood stairs or ladder to access the upper level
Shingle color
Need a Shed Instead?
Garages are great if you have a vehicle to store and protect, but what if you need more storage space for tools, a workshop, gardening supplies, or holiday decorations? Please look at our full line of customizable sheds! While they aren't big enough to store a car like a garage, sheds are cost-effective and provide more space for whatever takes up too much room in your home!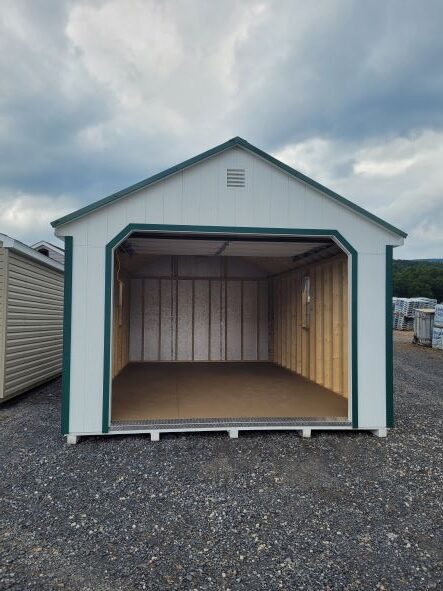 Why Choose Us for Your Custom Detached Garage?
Maybe you bought a home without a garage, or your children are growing up and have their own cars. Perhaps you want to protect your car or truck and want a finished second floor for a home office or workshop. No matter what situation you are in that requires you to search for one and two-car detached garages for sale, we can help!
For more than 20 years, we have been helping homeowners in Pennsylvania and beyond decide on the customized garage they want while handling all aspects of delivery and assembly. You can have a prefabricated garage delivered ready to go to your home, or our expert builders will assemble it for you. Our service area extends to 150 miles of Loysville, PA, so more people in Central PA can make their dream of a detached garage a reality.
Experience the Benefits of Adding Detached Garages to Your Property
If you're thinking about a new one-car garage or two-story garage purchase but aren't quite sure if it's right for you, you should consider all the benefits of adding one. For example, if you rent a storage unit elsewhere, you can save money in the long run by having the storage space on your property! Check out these other benefits of buying one of our detached garages for sale!

More Storage or Recreational Space
Detached garages give you the space you need to park your vehicles, and larger ones provide room for extra storage, a wood or auto workshop, or to simply get the kids' toys off the lawn. Plus, if you've ever wanted a man cave or she shed, a two-story garage can give you that space!

Keep Your Vehicles Safe from Threats
Unfortunately, not every person in this world is honest. Some people may try to steal your vehicle, lift parts from it, or vandalize it during the night. But if you store your car in a prefabricated garage from us, you can keep your vehicle protected from those types of threats.
Protection from the Elements
If you live in Central PA like us, you are no stranger to the elements! UV rays from the hot sun, unforgiving thunderstorms, ice and snow storms, hail, and high winds all pose a danger to your car in some way. Get your vehicle out of the elements and into the safety of a detached garage!
Looking for Customized Detached Garages for Sale?
Now that you know the great benefits of our detached garages for sale, don't hesitate to get in touch with us for a free quote! The base prices for our garages start around $30k and include the construction, delivery, and installation at the preferred site on your property. Plus, your customization options are nearly limitless, and we will do our best to ensure that you get the garage you've always wanted. Contact us now!